With the news that the Steel Hawk Motorcycle Club are pressing on and running their 'Rock it til Sundown' Midweek Summer MX Classic at Cusses Gorse on Wednesday 5th August comes more good news from Steel Hawk camp.
Relax to Race (R2R) have stepped up the plate to be the sponsor of the MX1 and MX2 Superfinal that will take place at the end of the evening and wrap up the all day event. The newly formed R2R brand is a CBD Arm Pump gel and have already began working with top off road riders like Factory Red Bull KTM Racing's Jonny Walker and Phoenix Tools Kawasaki's Carlton Husband.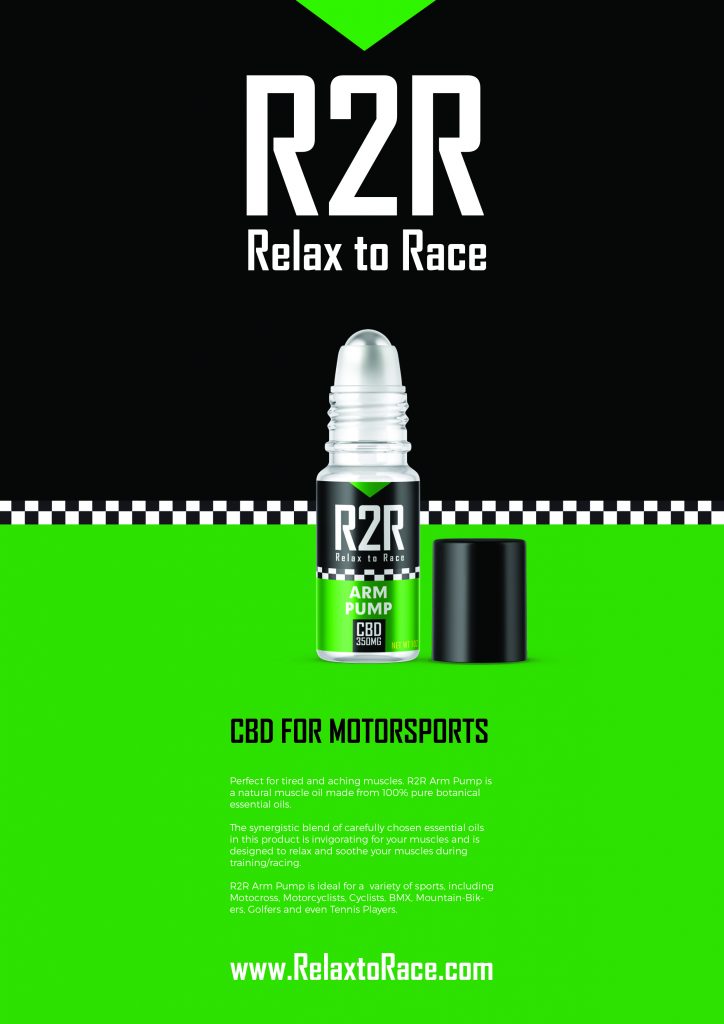 Relax to Race managing director Scott Roper is happy to be supporting the Rock it til Sundown event, which is now into it's third year and growing all the time. "We looked at what the Steel Hawk MCC are doing and it's obvious they are putting in so much effort to lay on an event that is fun and well organised, especially under the difficult circumstances we've all been in of late. Fair play to them for still working hard and committing to laying on what I'm sure will be a great event at Cusses. That's why we wanted to be involved and support them because MX needs these kind of regional events as much as it does national championships. We'll be there supporting it and I'm happy to say that everyone who enters the event will get a bottle of our CBD Arm Pump Gel to try. Hopefully people we feel the benefit of it after not racing for so long!"
Steel Hawk MCC's Jeff Perrett is equally as 'pumped' on Relax to Race supporting the event. "A huge thanks to Scott and the R2R team for coming in and supporting the event at the 11th hour. We thought long and hard about the running of the event for this year. Obviously when the virus really broke out and we went into lockdown we didn't think we'd be able to run, then after a while we thought, 'yeah, we will' then we changed our minds again! A few weeks later we thought, 'let's do it as a ride day with limited numbers' but then things started to change again and we finally decided to commit to running it as a race. Hopefully we won't get a second spike and be forced to cancel it.
"We've been overwhelmed with the response from the riders and the industry. We're already full on rider entries in all but two groups and we are now starting to get support coming in from quite a few top brands that we'll be announcing soon. Right now we're happy to announce this serious support from R2R, who are not only helping out with their product but also putting up prize money for the MX2 and MX1 riders to fight over in the Superfinal. We really appreciate it because we know many companies are going to be tightening their purse strings for a while. So to have some money on the table for the adult riders in these difficult times is great, so a big shout out to R2R for stepping in and supporting our event and our vision."