WHO'S THE CREW?
Steel Hawk Motorcycle Club was formed by us three amigos – Jeff Perrett, Julie Coyne and Paul Oughton.
We've been friends for a long time and in that time its fair to say we've gained a lot of experience in the world of motocross and the motorcycle industry in general. Now it's time to work together again; our time, our plans, with our heart and soul.
With help and inspiration also coming from the amazing photos of our good friend and ace 'Portugeezer' photographer Nuno Laranjeira, hopefully you'll enjoy the fruits of our labour.
A reason for being…
Why do we do what we do? That's a question that you can take as deep as you want. We do what we do and make decisions based on a wide range of emotions and thought process. Most people work out of a necessity to raise a family or to simply survive in an ever challenging modern day society, some are lucky enough to truly love what they do. Those fortunate to have found their reason for being and being paid for it.
Of course that doesn't mean they are fully blessed. Let's be honest here, having love and health in your life often leads to happiness, but a little bit of what your heart desires helps further your well being. Our desire and passion is motorcycles. Everything they stand for, and every way they make us feel.
Given to fly
We started Steel Hawk Motorcycle Club because, well, we just couldn't help it. We couldn't fight the inner dialogue, the finger of fate constantly tapping us on our temple. With years of experience behind us in the glorious world of motocross from riding, racing, editing magazines, running race teams and events and building motocross circuits the time was finally right for us to start something we've always aspired to do, thus Steel Hawk Motorcycle Club was born to spread it's wings and fly.
Where we'll go with the wind at our tail we're not really sure, but that's the true appeal. We have a passion for all genres of motorcycling and no doubt as we establish ourselves our wings will spread us further. This, our little collective, will always be in perpetual motion. Doing what we do because we love what we do. Motorcycles and the people they draw, now that's a life worth living. Our novocaine for the soul. Hopefully yours too, some come, join us flying free in the vast blue sky of future days…
Get on the bandwagon!
As we grow our motorcycle club we plan to eventually stage more events with each spin of this vast rock around the sun, in addition to our 'Rock it 'til Sundown' event every year in July and we'd very much like you guys to be on that journey with us and join our club and get involved. Just as soon as we set up the membership forms of course! Well, Rome wasn't built in a day and all that!
Truth is, there's so many off road motorcycling events these days that we feel less is more and we'd rather have a spattering of quality, fun events than settle for mediocre ones that clash with other good events or championships. Once we've established ourselves a bit more and got started with 'Rock it 'til Sundown' we'll get to work on some other events for you to sign up to and join the joy ride. Like Roxette, the Swedish Pop Rock duo asked you too in the early 90's…. only cooler, without all the hairspray and more rock n' roll!

Presents…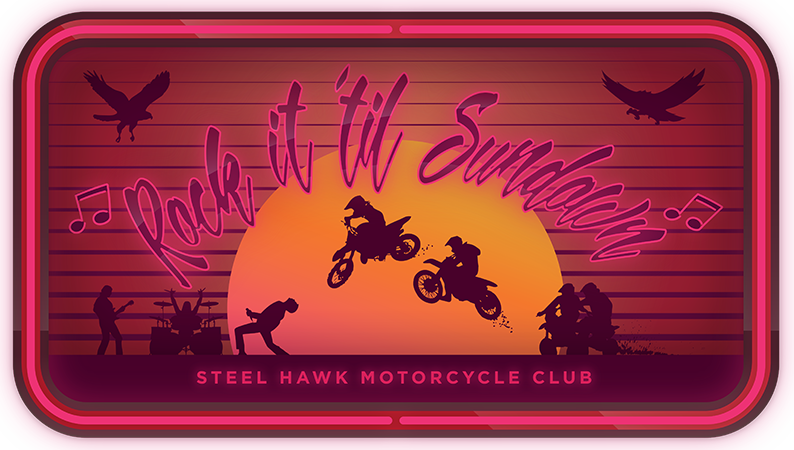 10th August 2022
Cusses Gorse MX Down Barn Road Winterbourne Gunner,
Salisbury, Wiltshire. SP4 6JW