Wednesday saw the Steel Hawk Motorcycle Club stage their fourth Rock it 'til Sundown Midweek Summer Motocross at Cusses Gorse MX near Salisbury.
The track received a good dousing of water early morning from Justin Barclay and the track crew in preparation for a long summer's day of racing.
The Expert racers took to the track in the evening event, which followed the Stolen BMX Youth meeting earlier on. In the first moto, powering from the gate, was the first-ever Rock it Champion Elliot Banks Browne on his Oakleaf Honda. Behind him jostling for second was Apico Husqvarna's Stu Edmonds and the Par Homes Husqvarna of Josh Gilbert, who came together with Edmonds in the opening salvo. Unfortunately, it was Edmonds who came off the worst, dropping back to seventh in the moto. By the end of the first lap, Gilbert was in the lead and pulling clear until a mistake would allow his Honda rival through with two to go. Banks Browne would then make his own mistake on the final lap gifting the win to Gilbert, who would take the chequers and the Revo MX1 class win over Banks Browne, Frenchman Florian Miot, and Edmonds. In the MX1 classification, it was Gilbert, Banks Browne, and Edmonds, the top three, with privateer Josh Taylor riding a blinder in fourth. Joe Clayton was fifth and Steve Bixby sixth.
Edmonds would fire from the traps in moto two chased hard by Gilbert and Banks Browne. The latter would make a few mistakes and would fall down the order, while Gilbert would take control of the lead and the race on lap two and take an untroubled moto victory from Edmonds, Miot and Adamson. After two moto's, the MX1 title would be Gilberts, ahead of Edmonds, Taylor, Banks Browne, Taylor and Charlie Putnam.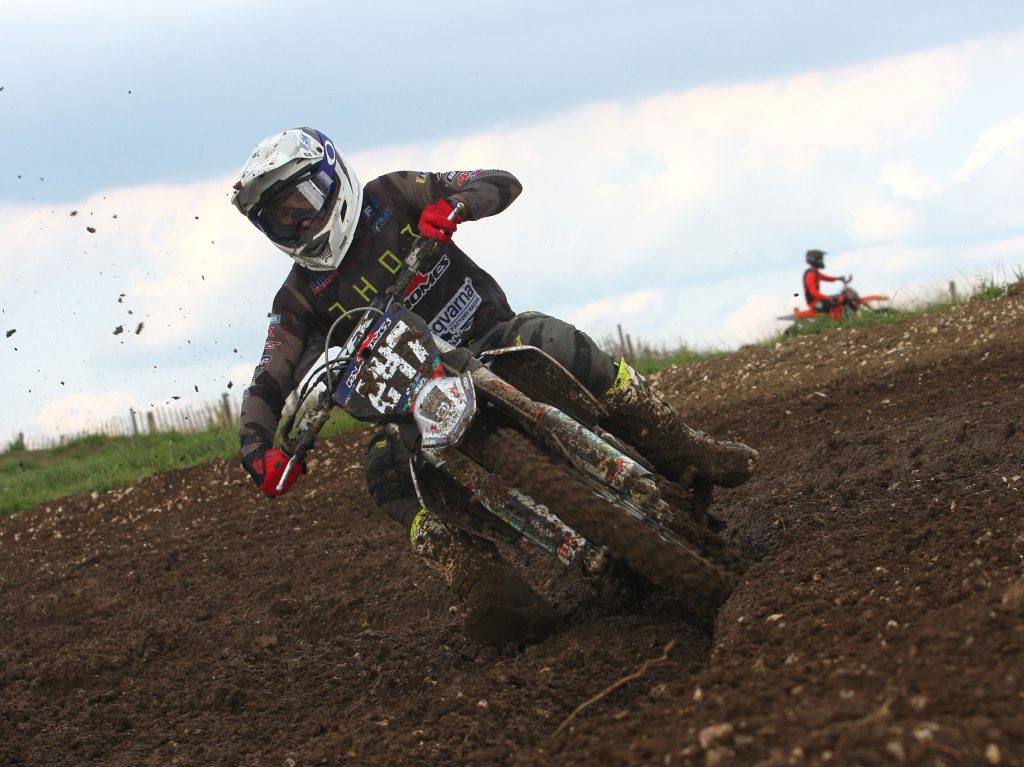 Par Homes Husqvarna made it an Expert class clean sweep with Miot doing the double in the Crescent Motorcycles MX2 class, but he had to work hard for it with the Gabriel Insulations KTM of John Adamson always on his case. The Chambers Racing Husqvarna of Tom Grimshaw and Michael Ellis traded third and fourth in each moto, with Grimshaw getting the nod for the final space courtesy of beating Ellis in the second moto. Another Par Homes Husqvarna rider Calum Mitchell was fifth, with Adam Collings sixth.
Anticipation was high for the Relax to Race Super Final which included, what we believe to be the worlds first motocross Joker lane (if you count the Monster Cup as Supercross, that is). Edmonds was once again lightning-fast from the start, with Gilbert buried back in sixth, but with Edmonds and Adamson taking the Joker Lane on lap one, Gilbert was swiftly into the lead and pulling clear. As the moto progressed and with the majority of riders having taken the Joker Lane, questions started to arise to Gilbert's tactics or if he had forgotten to veer off to the extended part of the lap, but with two laps to go, all was answered. With Edmonds and Adamson putting the hammer down, all eyes were on those two and Gilbert to see you would surface before the waves in the lead, and the answer was Gilbert by a good few seconds margin which he would maintain to become the fourth Rock it 'til Sundown Champion, winning the coveted Guitar.
Edmonds improved on last years third place with second, and Adamson was the top MX2 rider in third. Miot was fourth, Ellis was fifth, with Grimshaw in sixth.
Gabriel Insulations awarded Edmonds £150 for each of his two Holeshots and Banks Browne £150 for his first moto blitz to the first corner.
In the ASA United Gas Gas sponsored Clubman MX1 class, Ryan Tanner collected a massive stash of Matrix Concepts goodies courtesy of Madison for going 1-1 while the battle of the Hayward brothers was won by Ben, who edged out Carl for second, with both of them also collecting a hefty Matrix bundle. Brad Thornhill pitched in with a solid fourth overall, Sam Gabriel was fifth, and the third of the Hayward clan Adam was sixth.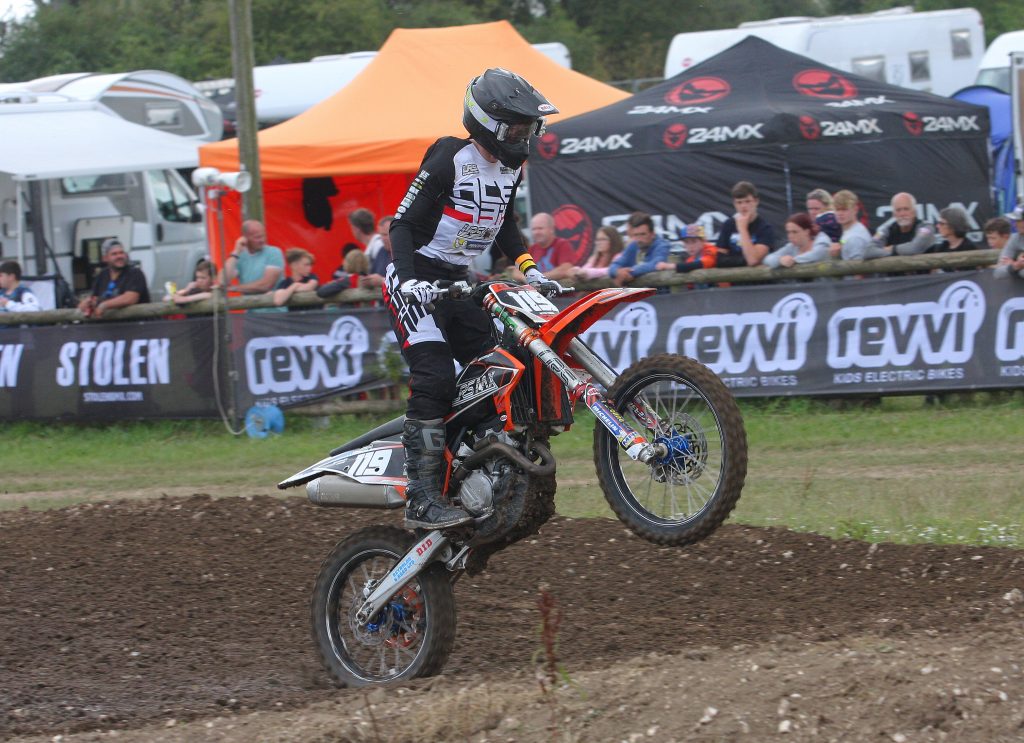 Rock it regular Mitch Young rattled off two motos victories in Clubman MX2 presented by Duck Smart, keeping Ben White and late entrant Cam McDonald at bay, who landed the second and third podium spots. Ryan Gardiner snatched fourth overall, with Liam Brosnan fifth and Jordan Smith sixth.
The Clubman riders will also be receiving some Fist Gloves or FMF goggles for their holeshot heroics, and a Motion pro award will go to the Clubman hard charger.
One lucky 2 Stroke rider from the Clubman class will also be bagging a new Pro Circuit exhaust system. Huge thanks to Madison for all of these fantastic prizes.
A few incidents meant that the Stolen BMX sponsored youth event was cut down to two blocks. We wish the injured riders a speedy recovery.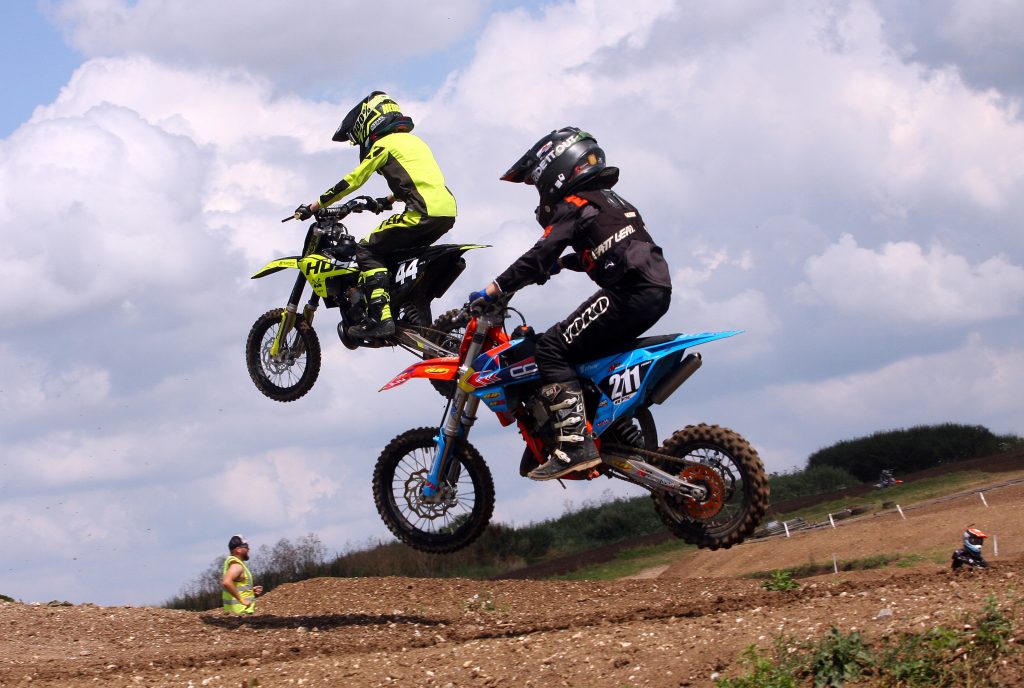 There was a stacked line up of little racers in the Alpinestars sponsored Auto class, which saw Jett Gardiner steal the show going 1-1 coming through the pack in both motos, with the fast-starting Jamie Currie in second in both races and in the overall with Jay J Cooper proving a popular third-place finisher. Rafe Symons had a solid day to finish in fourth ahead of Tommy Wood in fifth and Elliott Shawyer in sixth.
Robbie Daly made it back to back Troy Lee Designs 65cc titles taking the chequers in both motos, making it five from five in the last two years. Olivia Reynolds had speed in abundance and grabbed a superb second overall, with Jenson Severn riding fantastic for third. Marty Spires fired home a pair of good results to earn fourth overall, one point ahead of Stanley Siebert in fifth and Harvey Rowe sixth.
In the Small Wheel 85's presented by Spy Drew Stock was a class act winning the title with maximum points. It was tight behind Stock for the remaining podium spaces, and by going 4-2 Shane Jones would edge out Rocco Hands and Chester Hyde, who tied for points for third, with Hands notching the final place on the box courtesy of a second in the final moto. Reuben Alway was also right in the mix with fifth, great racing guys!
The previous nights Small Wheel 85cc Airborne Gunner Supercross winner Harrison Schofield was one of the unluckiest riders of the day, suffering from a mechanical issue while leading in moto one and then crashing out when in second in moto two.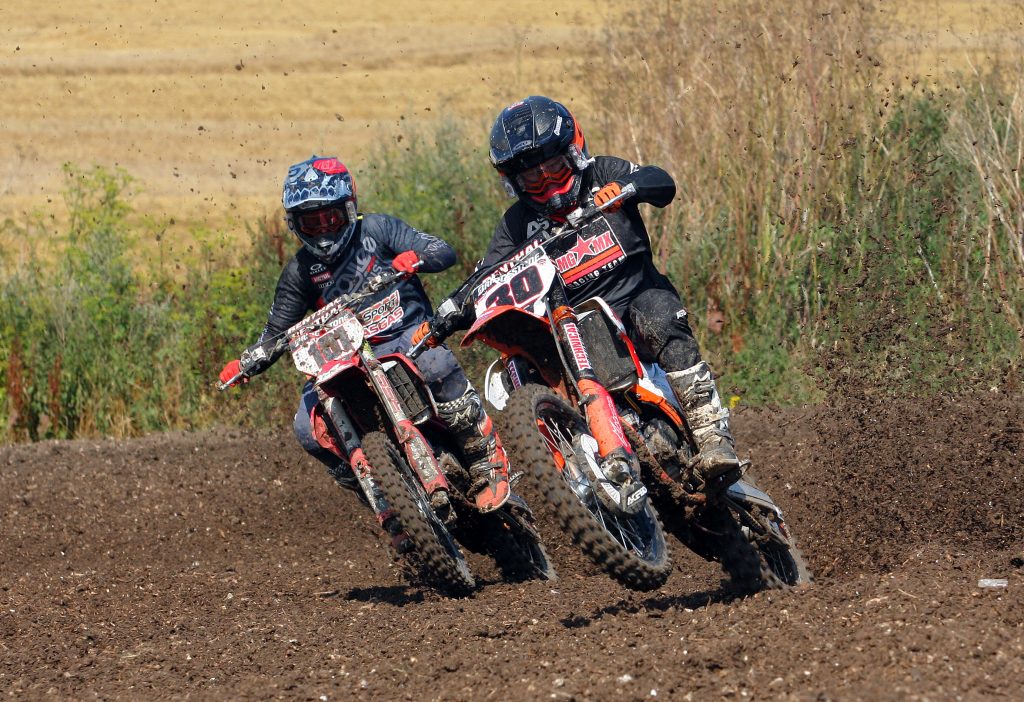 There was a top-class lineup in the Fly Racing Big Wheels, and the fight for the title went down to the wire. Last years Small Wheel Champion Charlie Richmond was the early moto one leader but reigning Big Wheel champ Tyla Hooley and debutant Finley Evans forged their way to the head of the field mid moto with the battle going down to the line with the two separated by less than a second at the chequers in favour of Hooley. In moto two, Evans would take the early lead, but Hooley was snapping at his heels all moto long but couldn't find a way past, which meant with the last moto victory up his sleeve Evans would be crowned champion. Richmond was third again in the moto and overall. Josh Vail had a solid day with fourth, Kyron Carron was fifth, and Helter Skelter Hillclimb champ Harrison Greenough was sixth.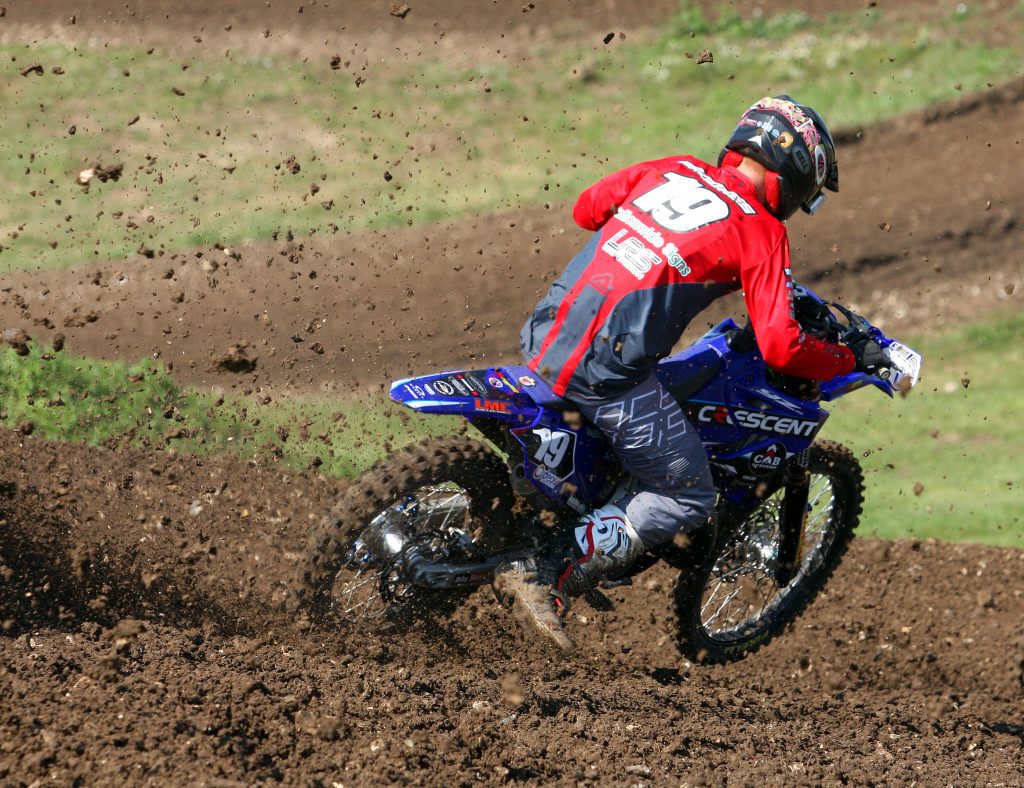 Joe Brookes, on his Cab Screens Crescent Yamaha, put in an epic shift in the Motul sponsored Rookie 125's winning his class and both of the mixed moto's. Behind Brookes in the 125's, Tyler Graves was second with a good performance, and Raife Broadley was third after falling in the first moto. Charlie Griffiths nailed fourth; Northern Irelands Charlie Irwin was fifth, and Liam Bennett sixth.
Leon Williams had a superb day and went 1-1 in the 250's with X-Cast's Josh Bassett an excellent second keeping Williams on his toes in moto two. Returning from injury, Ethan Sills showed his talent with third, Myles Taylor was fourth, Connor Warren fifth and Charlie Keight sixth.Fox Racing also came in late to sponsor the Rookie class, providing some great prizes for the top three.
Each class winner received a BMX courtesy of the Youth event sponsors Stolen BMX, and the top three received cleaning bundles courtesy of Duck Smart.
Riders who grabbed the holeshot in the first Youth and Clubman motos won a pair of MotoLoko gloves, while in the final moto, those snatching the holey would win a pair of FMF goggles.
A youth rider will also be awarded for their hard-charging antics by POD and will receive a set of POD Knee Braces. Keep your eyes on our social for announcements on these.
Kecks Clothing also awarded the fastest lap in each class.
Steel Hawk Motorcycle Club would like to say a massive thank you to everyone who made the 2021 Rock it 'til Sundown event possible, including all of our class and prize sponsors, Monsters of Dirt for sponsoring the programmes and prize boards, Tru7 for sponsoring the event with hardwear, lighting and fencing and for their all-round support of Steel Hawk, the Mx Nationals for helping with the start gate and much more, Justin and Christine Barclay for providing a fantastic venue, Nora for supporting the event with timing, entries and lots more, Andy Watts our Clerk of the Course and our fantastic track and start team, Nigel, Kay and the girls in the sign on tent, and of course Lewis and Charlie for so much it's impossible to list.
Keep your eyes peeled on our social media and our website steelhawkmc.cc for more awards from our sponsors from the day, our event edits and of course, news of our 2022 plans.
Pictures by Dave Rich – Results can be found at >> https://speedhive.mylaps.com/Events/1894317