It gives Steel Hawk Motorcycle Club great pleasure to announce that the Pro Invitational racers at their inaugural 'Airborne Gunner U.K Summer Supercross presented by Stunt Flying' will racing for the 'Melvyn Brunell Memorial Trophy'
Melvyn's son – Jack – will be lining up to race for the spectacular trophy that means to much to him and his family alongside the rest of U.K's top Supercross riders. Jack, who has etched out a good career for himself racing the indoor scene over the last decade and more, always travelled across Europe with his dad Melvyn supporting him all the way. Melvyn loved his Supercross racing and it's 100% fitting that the all new 'Airborne Gunner' U.K Supercross will have the 'Melvyn Brunell Memorial Trophy' as it's perpetual trophy from the get-go.
Steel Hawk's Julie Coyne, Paul Oughton and Jeff Perrett are honoured to run the event that will be the home of the trophy, hopefully for many years to come as Paul explains. "It's such a great and honourable thing to do and be part of. I don't know Jack very well, but Jeff does and he told me how much Melvyn was part of Jack's career and a real character around the indoor and Arenacross scene. It feels right that we're carrying on his name and we'd like to thank Jack for putting his faith in us to do that and supporting us in trying to get a solid U.K Supercross scene going."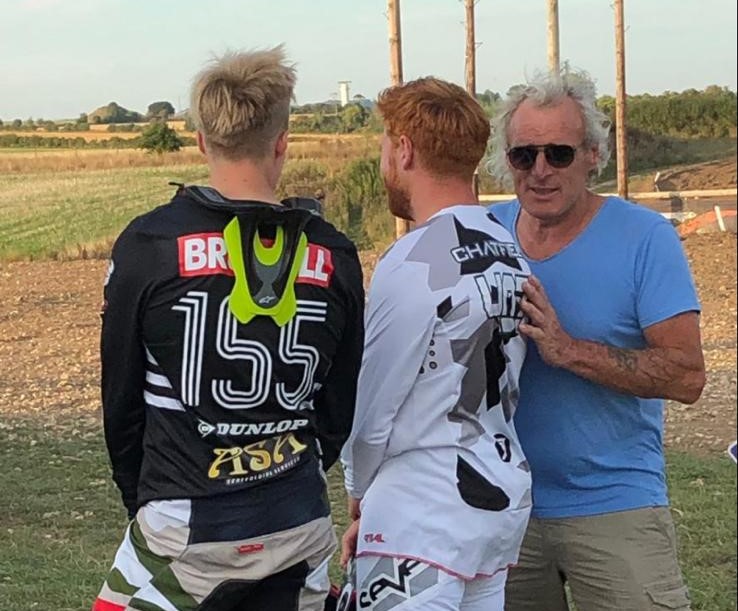 Not only is Jack, who races for the ASA / United Gas Gas team, offering the trophy for the Pro Invitational riders to fight over, he's also pulled together a monetary prize pot and is obviously very proud to be racing for a trophy in his dad's memory. "Losing dad was and still is heartbreaking. He was always there for me and the family and would do anything for us. I literally wouldn't of been able to live the life I've had without his love and support and we all miss him so much. To have the opportunity to have a race and trophy in his name is lovely for us as a family, especially a Supercross race because he lived for that and to see me do well. I'd like to thank Jeff, Julie and Paul for putting the idea together with me. Hopefully we can make him proud, not only with this first event but in turning 'Airborne Gunner' into a series that gets young kids racing Supercross, dad would love that. It's been tough times obviously and I'm sure it will be an emotional day for us come race day but we're going to really enjoy it and remember all the good times, I hope everyone else that is racing or comes out to watch has a great time too and makes memories, because trust me, that's what it's all about. I'll like to thank some really good people who have helped me with funding to do this. A big shout out to JLS Grab Hire, J&R Home Improvements, JS Contrax and Ross Burridge and Kawasaki Motors UK for all contributing, I couldn't of done it without them, so thanks again guys. I look forward to seeing a lot of people there having fun and racing the guys for dad's trophy."
Airborne Gunner U.K Summer Supercross presented by Stunt Flying will take place on Tuesday 3rd August. 'Rock it til Sundown Summer MX Classic will run on Wednesday 4th August. Both events will be held at Cusses Gorse MX, near Salisbury.
Spectator tickets and rider entries are both available on www.steelhawkmc.cc