Over 40 little racers descended on the superb Wheeldon Off-Road Centre in Devon at the weekend as the Steel Hawk Motorcycle Club hosted their first Revvi Cup Electric Balance Bike race of 2022 as part of their Farm Boy Bash event.
The atmosphere at the event was super friendly and supportive and as much as there was racing going on the fun factor never waned and the kids had a whale of a time, and so did the parents – although some of them certainly earned an evening tipple after running around the track after their little ones for two days. Big respect to them for that.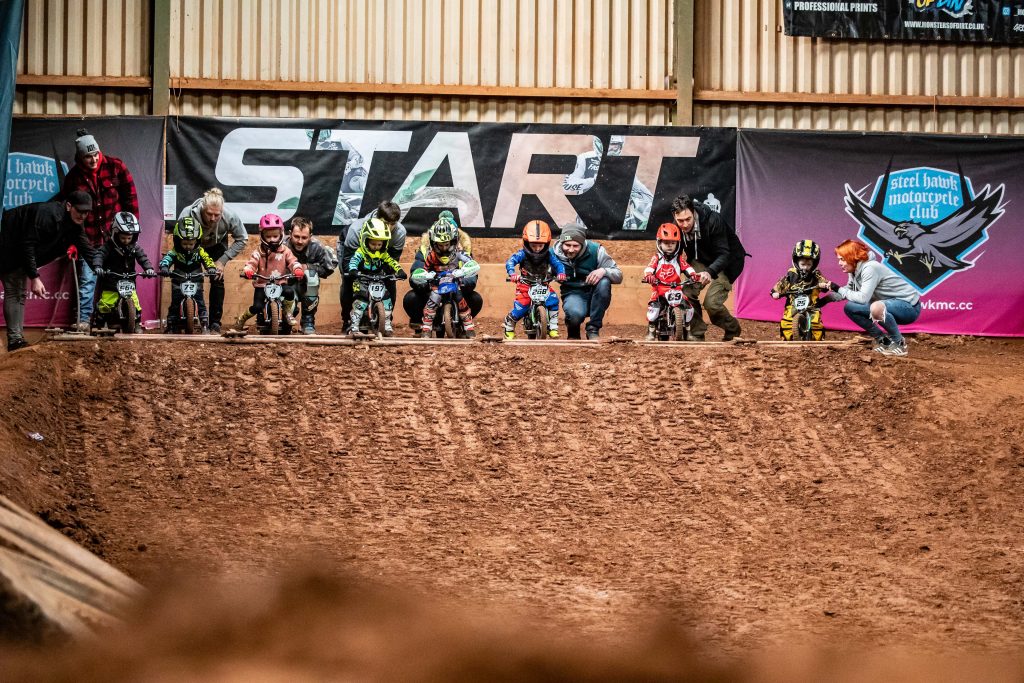 The biggest class on show was the 12″ 3-4-year-old age category with 18 little rippers going at it all weekend long.
On Saturday riders in this class had three qualifying heats which decided who had reached the A and B Finals. Dale Bennett rode tremendously all-day long and had a storming A final, taking the victory ahead of Toby Parsons and Martha Gill. There were battles all of the way through the field and there was some exceptional skill on show throughout. Fletcher Norris was fourth, Cassius Holmes fifth, Frazier Norris sixth, Harley Randle seventh and Finley Shipton eighth.
In Saturdays B Final Louie Bryant rode a blinder to grab the win over the chasing pack with Nicky Layt second, Harry-Gorge Corps third, Jacob Julian Cossey fourth, Jonah Barks fifth, Evan Cooper sixth, Alyssia Lord seventh, Charlie Ormshaw was eighth and Oakley Gaines was ninth.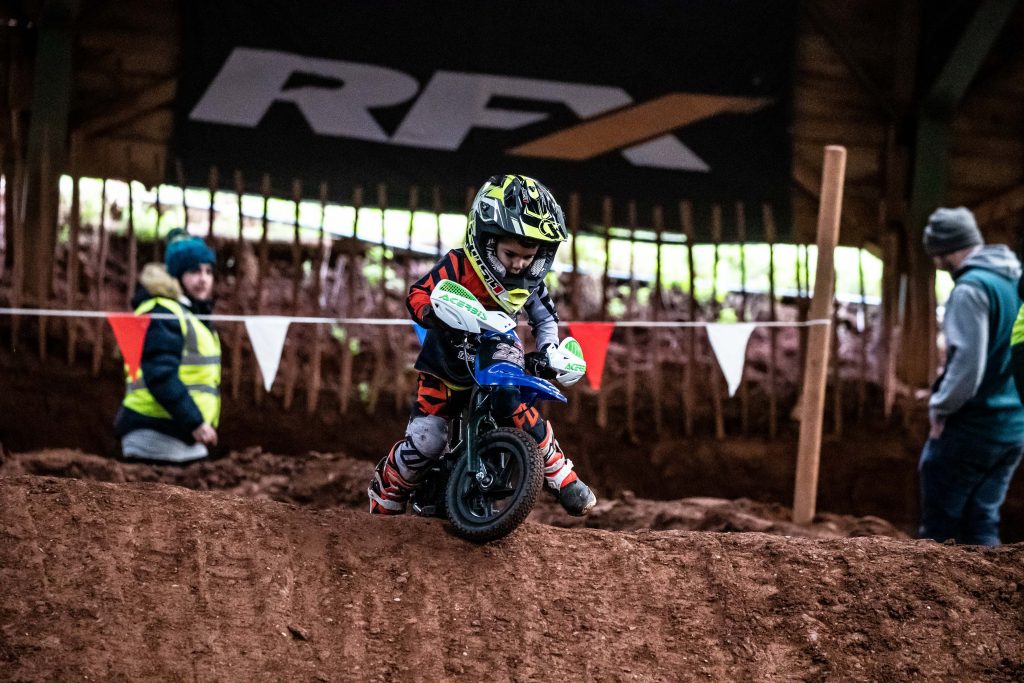 Sunday's programme had two qualifying heats then a final for the 12″ 3-4 year old riders and this time it was Frazier Norris with a fabulous A final victory over Dale Bennett who had to battle his way through the pack after a start crash. Joining these two on the podium was Toby Parsons who had a super race. Martha Gill finished the race in fourth, Louie Bryant was fifth, Finley Shipton sixth, Nicky Layt seventh, Evan Cooper eighth with top qualifier Fletcher Jones ninth. Fletcher deserves a special mention though as he came down hard in a big pile at the start but dried his tears to finish the race. Well done Fletcher!
The B Final saw two riders who had Sunday wobbles, both missing a race but both coming back with fabulous rides and finishing 1 and 2 and these were Harley Randle and Cassius Holmes who finished in that order. Well done guys on getting back on and finishing the weekend on a high.
Behind the front two, there were smiles and great riding aplenty. Harry-George Corps was third, Jacob Julian Cossey was fourth, Charlie Ormshaw fifth, Ruby Sheppard sixth, Oakley Gaines seventh, Jonah Barks eighth, and the winner of the biggest smile of the weekend Aylssia Lord ninth.
With the most points over the two days Dale Bennett was awarded the coveted Revvi Cup in his class. Excellent riding Dale!
Two 4 year olds battled it out in the 16″ 4 Year old class and they traded places each day with Dalton Wright standing on the top step of the podium on Saturday with Freddie Spicer second, with the roles reversed on Sunday with Spicer getting the better of Wright. It was Dalton though who amassed the most points to win the Revvi Cup.
Freddie Dennis put on a mighty fine display of riding in the 16″ 5-6 year old class taking maximum points on both days and taking the Revvi Cup with it. Alfie Rundle was second on each day and has a great style with Dakota Wright rounding out the podium in third on both days. Lockie-Jay Holmes was fourth both times, and Coby Shipton was fifth on Saturday and seventh on Sunday. Maggie May Lyat was sixth on Saturday and stepped it up a notch on Sunday with fifth while Grace Roberts had a seventh and sixth.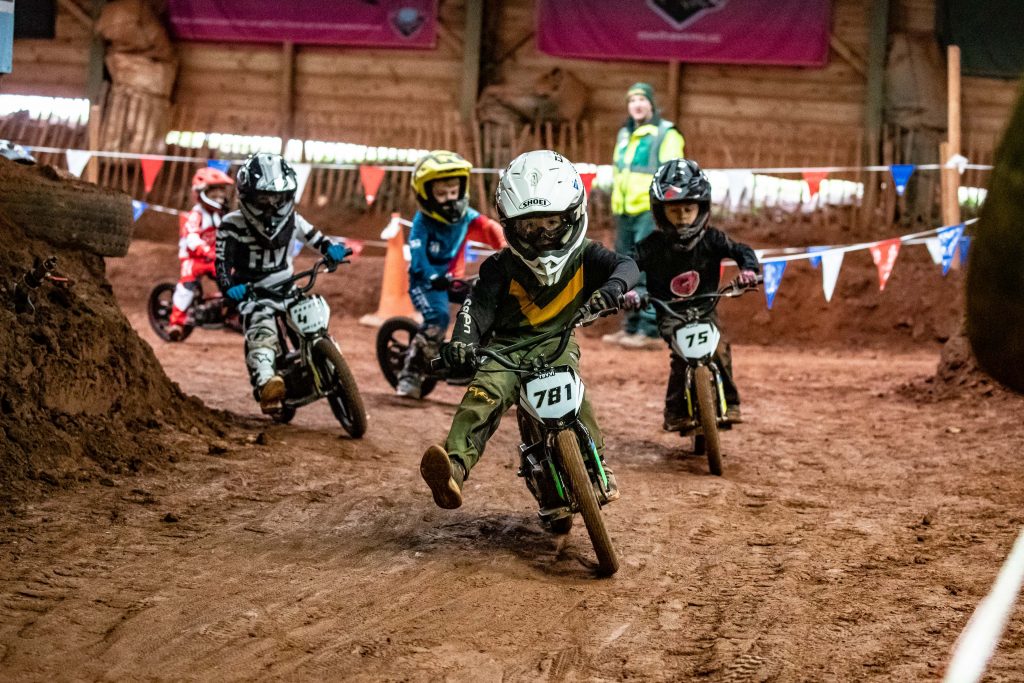 In the 16″ + 5-6 Years of age category, Kolbe Red Sole was on fire and rode to a faultless set of victories on Saturday. Behind Kolbe was one of the keenest riders of the weekend Elliott Watts who was ready in the holding pen ages before his race. The final spot on Saturdays podium went the way of Kasen Norris. On Sunday the podium had a shuffle and it was Kasen who had a fantastic day to take the victory over Kolbe with Elliott in third.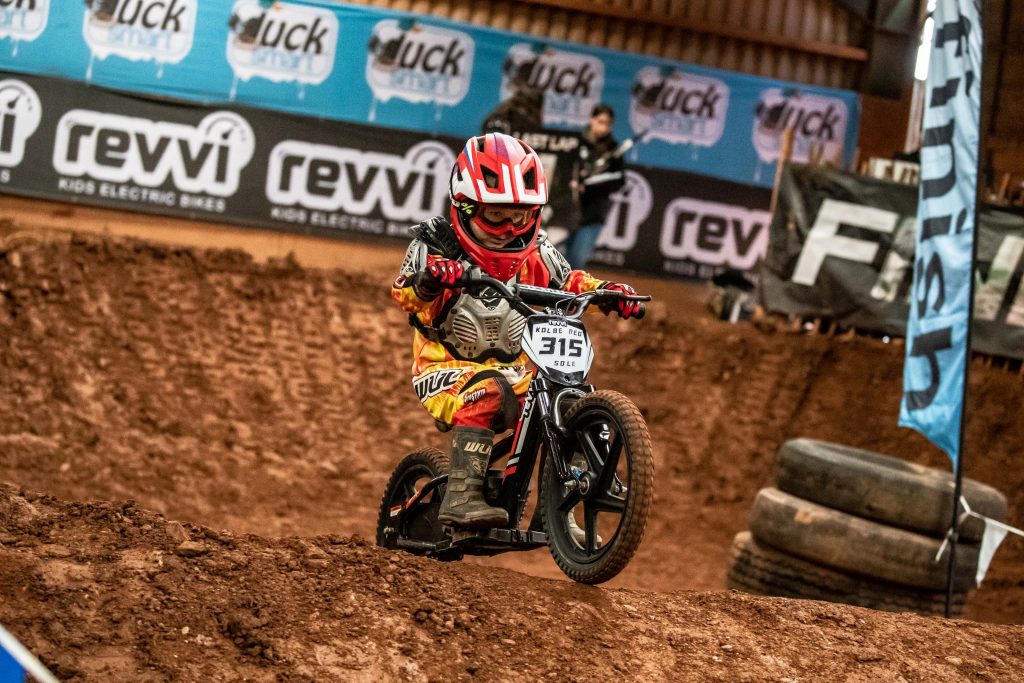 Oli Staples enjoyed his weekend with the number 4 spot each time. On Saturday Olivia-Rose Shelley was fifth and Charlie Young sixth with them swapping places on Sunday. Saskia Harris was seventh on Saturday and Eighth on Sunday and it was vice versa for Poppy Reeves. When the points were tallied the Revvi Cup would go the way of Kolbe Red Sole after some epic racing in this category.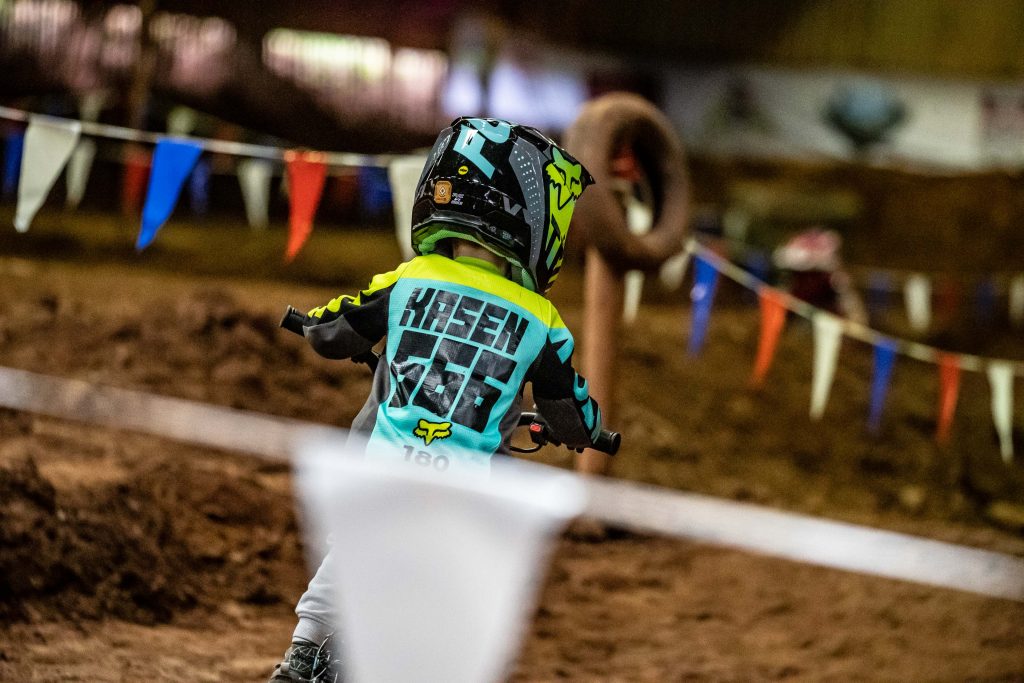 Over in the 16″ 7-8 years of age class Louise Pengelly notched up a triple victory by taking the wins on both days and earning the Revvi Cup. Jesse Barks was second both days.
In the 16″ + 7-8 years of age category Oliver Watts brought home the Revvi Cup with a splendid weekend for the Watts family with him winning both days too ahead of Emelia Bryant.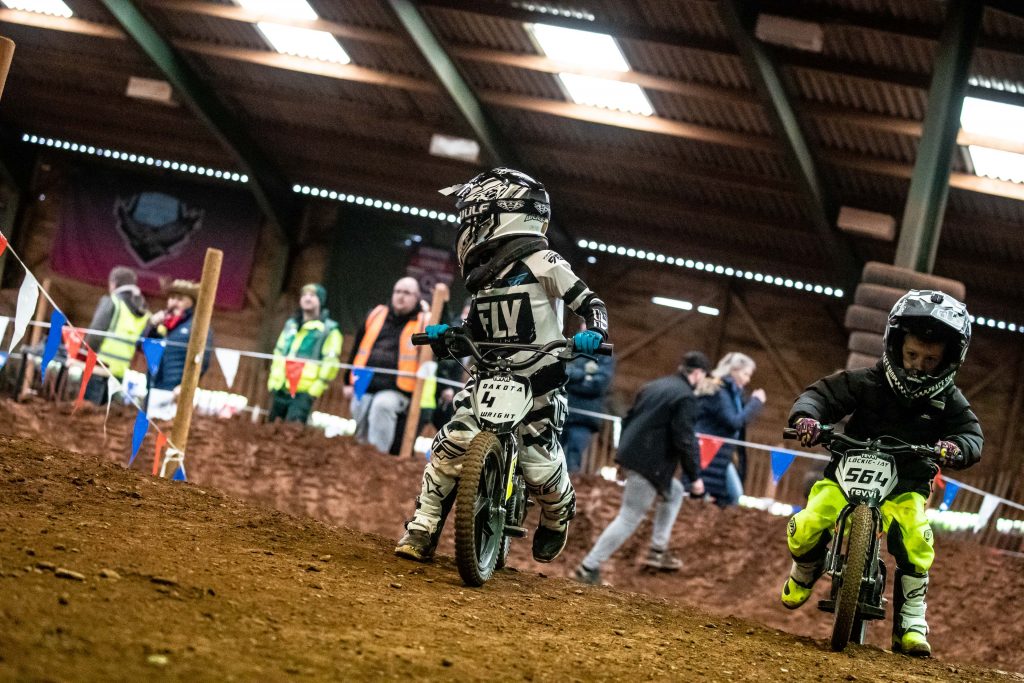 Eric Joyner may have been the only Electric 50 at the event but he certainly made the most of his weekend and rode with the 16″ 7-8 riders and had some epic battles which kept the crowd entertained, well done Eric.
Paul, Julie and Jeff of the Steel Hawk Motorcycle Club would like to congratulate and thank all of the little riders for not only never giving up all weekend long, but also for the sportsmanship they showed their competitors and the respect they showed our team. All of their parents should be very proud.
We would also like to thank all of the parents and the families of the riders for looking out for each and every rider and for the tidiness in which you left the barn.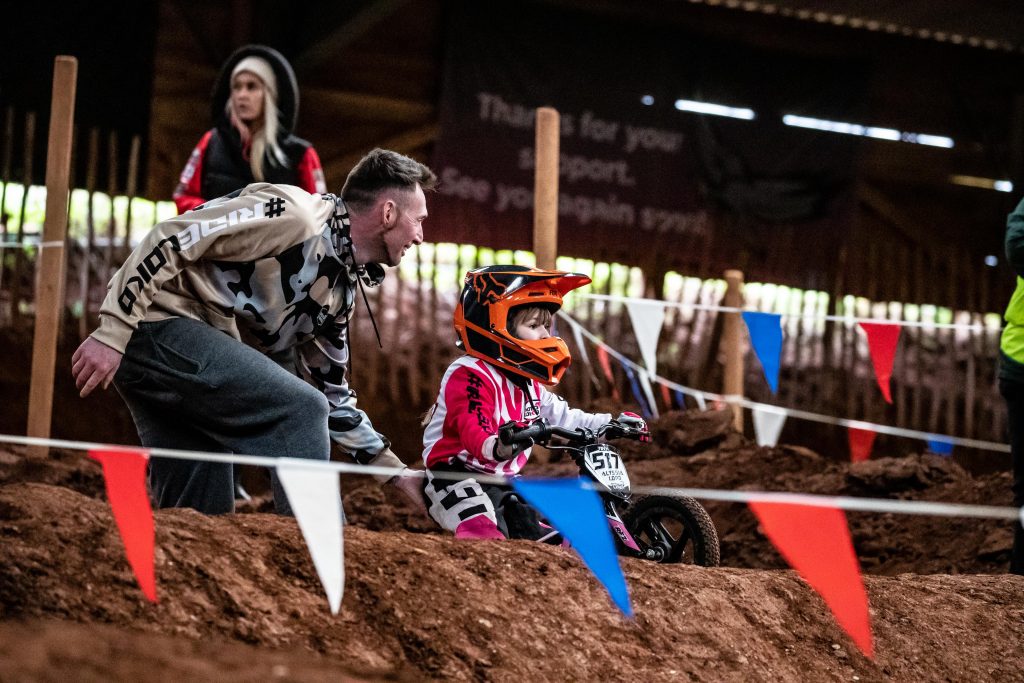 We would also like to thank our team who did an epic job all weekend long, Andrew and the team at Wheeldon for providing a superb venue and track, Revvi for supporting the event, Roy at Nora Motorsport for Lap scoring and his all-round support of the club and our vision, Monsters of Dirt for the awesome prizes and programmes and of course our sponsors Duck Smart, Tru7, Fist Handwear and RaceFx.
We are truly humbled by the feedback we have received so you can rest assured we are working like beavers to come up with dates and venues for future events, so keep your eyes on our social media and website for further news.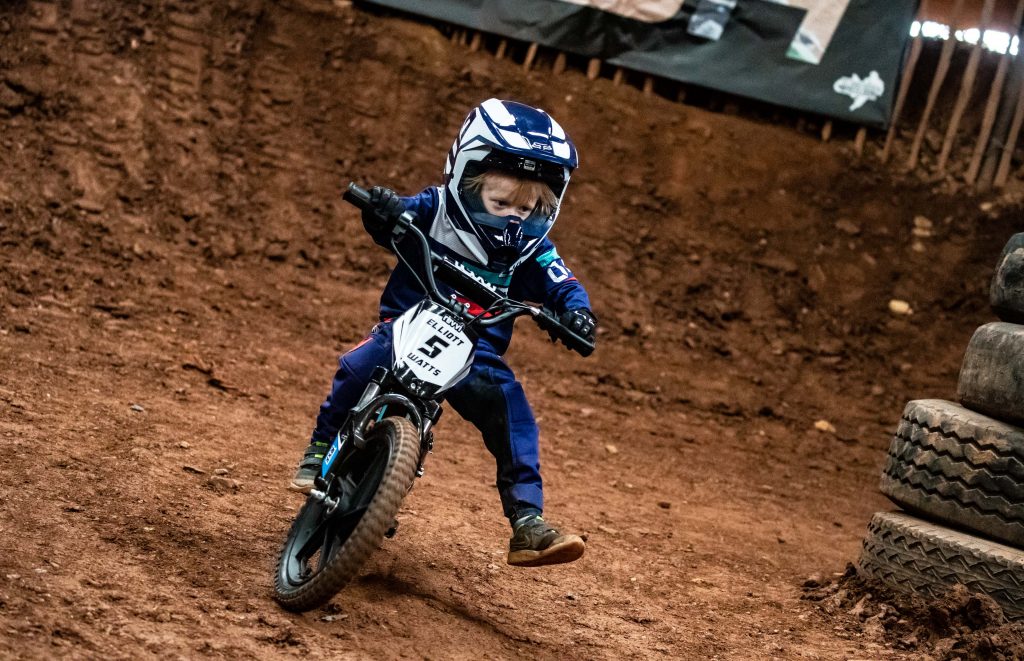 Results
Revvi Cup winners – (The riders with the most points from all races over the two days)
12″ 3-4 Years of age – Dale Bennett
16″ 4 Years of age – Dalton Wright
16″ 5-6 Years of age – Freddie Dennis

16″ + 5-6 Years of age – Kolbe Red Sole
16″ 7-8 Years of age – Louise Pengelly
16″ + 7-8 Years of age – Oliver Watts
Saturday
12″ 3-4 Years of Age

A Final
1st Dale Bennett
2nd Toby Parsons
3rd Martha Gill
4th Fletcher Jones
5th Cassius Holmes
6th Frazier Norris
7th Harley Randle
8th Finley Shipton
B Final

1st Louie Bryant
2nd Nicky Layt
3rd Harry-Gorge Corps
4th Jacob Julian Cossey
5th Jonah Barks
6th Evan Cooper
7th Alyssia Lord
8th Charlie Ormshaw
9th Oakley Gaines
16″ 4 Years of age
1st Dalton Wright – 24pts
2nd Freddie Spicer – 20pts

16″ 5-6 Years of Age
1st Freddie Dennis – 32pts
2nd Alfie Rundle – 25pts
3rd Dakota Wright – 24pts
4th Lockie-Jay Holmes – 23pts
5th Coby Shipton – 16pts
6th Maggie May Lyat – 11pts
7th Grace Roberts – 9pts

16″ + 5-6 Years of age
1st Kolbe Red Sole – 32pts
2nd Elliott Watts – 28pts
3rd Kasen Norris – 23pts
4th Oli Staples – 21pts
5th Olivia-Rose Shelley -14pts
6th Charlie Young – 14pts
7th Saskia Harris – 8pts
8th Poppy Reeves – 4pts
16″ 7-8 Years of age
1st Louise Pengelly – 24pts
2nd Jesse Barks – 16pts
16″ + 7-8 Years of age
1st Oliver Watts – 20pts
2nd Emelia Bryant – 12pts
Electric 50

1st Eric Joyner – 24pts
Sunday
12″ 3-4 Years of age
A Final
1st Frazier Norris
2nd Dale Bennett
3rd Toby Parsons
4th Martha Gill
5th Louie Bryant
6th Finley Shipton
7th Nicky Layt
8th Evan Cooper
9th Fletcher Jones
B Final
1st Harley Randle
2nd Cassius Holmes
3rd Harry-George Corps
4th Jacob Julian Cossey
5th Charlie Ormshaw
6th Ruby Sheppard
7th Oakley Gaines
8th Jonah Barks
9th Aylssia Lord
16″ 4 Years of age
1st Freddie Spicer – 23pts
2nd Dalton Wright – 22pts

16″ 5-6 Years of age
1st Freddie Dennis – 24pts
2nd Alfie Rundle – 20pts
3rd Dakota Wright -19pts
4th Locklie-Jay Holmes – 15pts
5th Maggie May Lyat – 10pts
6th Grace Roberts – 9pts
7th Coby Shipton – 7pts
16″+ 5-6 Years of age
1st Kasen Norris – 22pts
2nd Kolbe Red Sole – 21pts
3rd Elliott Watts – 18pts
4th Oli Staples – 17pts
5th Charlie Young – 11pts
6th Olivia-Rose Shelley – 10pts
7th Poppy Reeves – 6pts
8th Saskia Harris – 3pts

16″ 7-8 Years of age
1st Louise Pengelly – 18pts
2nd Jesse Barks – 15pts

16″+ 7-8 Years of age
1st Oliver Watts – 18pts
2nd Emelia Bryant – 12pts
Electric 50

1st Eric Joyner -18pts